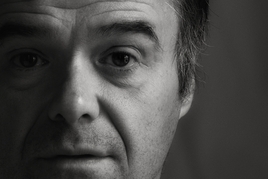 ---
Alain Gauthier
was born in August 1961. As a stage artist, he joined Le Cirque du Soleil in 1986 and totaled some 2000 live performances with the troupe. He has been part of the acrobatic movement research team that has helped le Cirque du Soleil achieve the style of performance that they
present today. His most famous creative work has been seen in the equestrian show Cavalia, where he combined his staging and choreographic art with horses, on the biggest touring production in the world. Alain Gauthier's innovative talent and solid experience, both onstage and behind the scenes, has also taken a turn towards visual art design. His knowledge of movement and beauty on stage can be experienced in his fractal animated imaging, better described as light choreography.
Among his well known creative achievements are The Millennium Dome show (London 2000, Peter Gabriel), Zulu time (Robert Lepage), Zumanity (Cirque du Soleil), Crescend'o (Cirque d'Hiver, Paris), La Damnation de Faust by Robert Lepage (Matsumoto, Japan, Paris Opera, Metropolitan Opera, NY, Grand Theatre de Quebec 2013), Ice from Russia (Las Vegas), The 2008 US Olympic Gymnastics Superstars tour, NBC's top of the hour reality show 'Celebrity Circus'., Aerial concepts for The Black Eyed Peas 2009 tour, 'ERA' and 'Kaleido' in Shanghai China as well as Mark Fisher's 'Voyage de la Vie' in Singapore, 'Odysseo' (Cavalia 2), Hongcun Aju for Mirage Ent. in China, Illusions at the Joyland theatre in Wuxi, China; a 3D multimedia dance extravaganza and more recently 'Cavalia' at the 2014 Qasr Al Hosn festival in Abu Dhabi.